Mobile Friendly Websites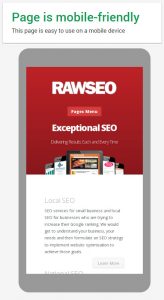 Every website we build these days is mobile friendly by being responsive, which means that it will transform itself according to the device viewing it, whether a PC, Mac, Tablet or Mobile device.
From the 21st April, Google is going to place extra emphasis on mobile friendly websites by using mobile-friendliness as a ranking score.
SEO is all about scoring your website against a number of factors that contribute to SEO. There are over 200 different parameters that you will be scored against resulting in positive or even negative scores if you're being penalised for anything. The art of SEO is getting as many points as possible in as many of these areas to outweigh the competition so that you come first, or at least very high up in the rankings.
We're currently in the process of converting some of our customers original static designs into mobile friendly WordPress websites which will help give them control over their own content – another important factor in SEO.
If you have a website that is not mobile-friendly and you need it to be by the 21st April, then get in touch and we can have a chat about your requirements and what can be done to help you.
Some websites can be converted to mobile-friendly, others will be quicker to re-do from scratch, it all depends what type of website you have already and how it has been written.
I can help you with a mobile friendly website, so get in contact with me today.