Make Your Website Mobile Friendly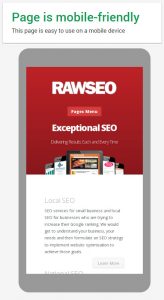 As part of Google's initiative to get every website mobile friendly, I can help you with your website.
If you have a website already that is not mobile friendly, then you may already be considering your options and one of those options is to make your existing website mobile friendly.
Not every website can be made to be mobile friendly as it does depend on how the website has been built and what technology it uses.
I can review your website and within just a few minutes be able to tell you whether your website can be converted to mobile friendly. If so, then I can also give you an idea how long it will take to convert your website to be a mobile friendly website.
If on the other hand you think this is a great opportunity to have a new website that is website friendly from the outset then I can help you with that too. Not only will you have a great website that is website friendly but it will also be tailored to your specific needs and best of all, will have excellent SEO to get you found on Google.
If you're not sure if your website is mobile friendly or not, just fill in the 'is my website mobile friendly' form and I'll look into it for you.
Or, give me a call on 01903 331311 and we can go through it over the phone or send me a message.
I look forward to hearing from you.