Working on websites for community projects is great fun but also very rewarding. It helps the group reach a much wider audience to tell people about their group and their projects in the community.
I always work closely with the group to ensure that I understand their specific requirements and deliver a website that is well SEO'd, to ensure they get found, and also ensures that they can manage their own content, provide access to the appropriate group members and that it is easy to use.
I also provide instructional documentation and personalised training videos to help new administrators and content writers get to grips with the website so that they can effectively manage its content.
---
"For some time, Ferring Conservation Group has been considering getting its own website, and we recently decided to take the plunge. We were lucky enough to make contact with Rob Wassell of RAW Systems Ltd who happened to be a resident of our local area.
He immediately took on the task of designing and setting up the site, and even provided us with a personalised instructional YouTube video in order that those of us with limited computer skills could progress the site and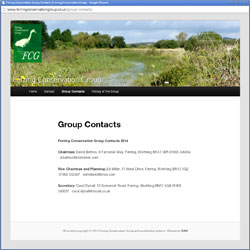 upload the necessary documents to get things going.
As a group, we are very impressed with the results as we have now have a long overdue but very necessary professional looking site. We have received a number of positive comments from our members already.
Nothing is too much trouble for Rob, as he has been a great support to us, and he is very happy to answer any ongoing queries that we might have.
In conclusion, I would thoroughly recommend him for friendly, professional and very reasonable services."
David Bettiss, Chairman
Ferring Conservation Group
At the time of writing the website hasn't been live very long and is still awaiting more content to be added. Despite this, when you search for 'ferring conservation group' the website is on page one of Google and will improve over time where I would expect it to be at the top of page.