Nice things that just a few of of our customers have to say:
Website and SEO for Two Way Radio Communications Company in Sussex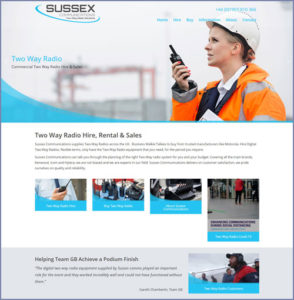 Within just two weeks of the new highly-SEO-optimised website going live we were already able to report on significant improvement and provide evidence of progress in our detailed reports.
The client was over the the moon with the results we've achieved.
"We are very impressed with the result since you have done the new website. We have had the phone ringing with new enquires via the website & via google search."
---
Website and SEO for Insurance Broker in West Sussex
"We have recently started to use Rob and WorthingSEO for Search Engine Optimisation and it is already obvious that he is passionate about his work and an expert in his field. He has taken the time to really understand our business so he can give us tailored advice. He has provided excellent, in-depth analysis which is eye-opening using plain English and he has been very flexible. I have every confidence in working with WorthingSEO."
Robert Watkins BSc (Hons) Cert CII
Director
Dennis Watkins & Co Ltd
---
Website and SEO for Video Production Company in Worthing

"We had a website that wasn't really serving us well, mainly because it had no visibility on search engines. Rob from WorthingSEO then designed a completely new site for us from a new domain name upwards. Everything was done keeping search engine visibility in mind. We wrote pages of new copy which Rob incorporated into the site. Rob set-up the whole thing so that once it was all complete we could easily take it on and administer it ourselves.
Now we're always on page 1 of a generic Google search, often page 1, result 1. Rob has given us lots of useful advice about how to market ourselves on the web, particularly with things like well targeted AdWords campaigns. It's been a pleasure working with Rob, it's been really good to find someone so expert in their field, we'd recommend him and WorthingSEO to organisations of all sizes."
Paul Cadogan, Definitive Video Productions, Worthing, West Sussex
---
SEO Services for Wall Tie Specialist in Worthing
"From the first moment I met Rob it was clear that he knew exactly what he was doing through his knowledge of SEO. We are extremely pleased with Rob's work building our website and how he explains in detail how he will achieve the results you want. After completing our website and SEO work on the Friday, Rob explained that it may take some time for Google to rank us properly but by that Monday we were 1st page on all our keywords and 80% of them were number 1 as well. It has picked up 11 enquiries in 3 days!
We couldn't be happier with the results Rob has achieved through his knowledge and hard work and will continue to use him in the management of our website. 10/10 and we have already started recommending."
Alex Morley, Coastal Wall Ties, Rustingon, Littlehampton, West Sussex
---
SEO Services for an Accountant
"I am delighted with the work that WorthingSEO have done on my website. Not only does it look great but I am now the first organic result for anyone searching for an accountant in Worthing, ahead of all the bigger firms in the town. This is fantastic as I now get regular new business enquiries directly from the website."
Heather Still, Still Accounting, Worthing, West Sussex & Brighton East Sussex
---
SEO Services for Security Company
"I met Rob at a Ferring Business Forum meeting and listened to him talk about SEO, from that alone I realised he new what he was talking about.
We already had a very good looking website but it did not perform well in Google searches, within two weeks of Rob applying SEO we were on page 2/3 and now we are achieving page one with most of our keyword searches. We are very impressed with the results and haven't stopped working with Rob yet, we hope to be applying further updates in the coming months.
He is extremely easy to work with and explains things well, we have no problem in giving him our full recommendation."
Keven Grover, Director, Invader Security Solutions Ltd, Worthing, West Sussex
---
Website and SEO Services for a School

"Working with Rob on the Bagshot Infant School website was a really positive, creative experience; he was responsive and inventive with the design brief and also delivered a website that meets the needs of the whole school community in its private learning space and yet also presents an attractive and inviting website for prospective families looking to place their little ones in a school in which they believe they will thrive.
The end result is a bright, vibrant and inclusive site that has received many compliments from within and beyond the school community including other local schools."
"Rob is an enthusiastic and skilled communicator and is also very committed to every stage of the project process which makes working with him effortless. I wouldn't hesitate to work with him again in the future."
Helen Connolly, on behalf of Bagshot Infant School, Bagshot, Surrey
---

Website and SEO for Local Conservation Group
"For some time, Ferring Conservation Group has been considering getting its own website, and we recently decided to take the plunge. We were lucky enough to make contact with Rob Wassell of RAW Systems Ltd who happened to be a resident of our local area.
He immediately took on the task of designing and setting up the site, and even provided us with a personalised instructional YouTube video in order that those of us with limited computer skills could progress the site and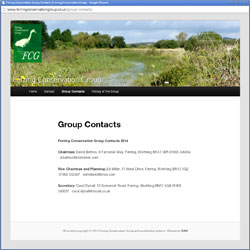 upload the necessary documents to get things going.
As a group, we are very impressed with the results as we have now have a long overdue but very necessary professional looking site. We have received a number of positive comments from our members already.
Nothing is too much trouble for Rob, as he has been a great support to us, and he is very happy to answer any ongoing queries that we might have.
In conclusion, I would thoroughly recommend him for friendly, professional and very reasonable services."
David Bettiss, Chairman, Ferring Conservation Group, Ferring, Worthing, West Sussex
---
Website and SEO for Artist in Brighton
"I am delighted with my RAW-designed website. I feel it was made to fit me like a glove – Rob was able to infuse all of the site's design aspects with my own artistic 'voice', thereby creating a site that is totally unique to me. On top of that, Rob was endlessly patient in sorting out technical glitches for me, and coached me in how to keep the site updated and maintained myself. I would not hesitate to recommend Rob for all your website requirements."
Pearl Bates, Brighton, East Sussex
---
---
If you would like to know how I can help get a great looking website and first page results on Google then give me a call on 01903 331311 for an information chat or get in touch.