Good website design involves many different factors from understanding the expectations of the customer, understand the products, the market and the people who are going to be vising the site and implementing SEO from the start. It must also be user friendly and easy to use, logical and make sense to the visitor. The design is important because it helps convince the visitor that you are the very best result for their search and that they should do business with you.
Having spent twenty years designing websites I have a very good track record of delivering results with a 100% success rate in improving ranking on search engines, increased visitors and awareness.
If you'd like to have an informal chat about your requirements, call me on 01903 331311 or get in touch.
---
"We had a website that wasn't really serving us well, mainly because it had no visibility on search engines. Rob from RAW then designed a completely new site for us from a new domain name upwards. Everything was done keeping search engine visibility in mind. We wrote pages of new copy which Rob incorporated into the site. RAW set-up the whole thing so that once it was all complete we could easily take it on and administer it ourselves.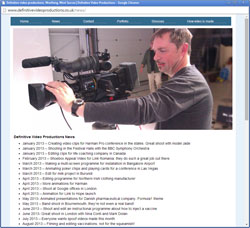 Now we're always on page 1 of a generic Google search, often page 1, result 1. Rob has given us lots of useful advice about how to market ourselves on the web, particularly with things like well targeted AdWords campaigns. It's been a pleasure working with Rob, it's been really good to find someone so expert in their field, we'd recommend him and RAW to organisations of all sizes."
Paul Cadogan, Definitive Video Productions,
Worthing, West Sussex
 To see for yourself just how high Definitive Video Productions appear in the search results on Google, just search for 'video production worthing' or using other keyword phrases, such as 'get a video made worthing'.